This is one of those recipes which will have you saying why didn't I do this sooner!
There are a lot of ways to smoke chicken out there, but once you get done with this you might never make smoked chicken another way it is that good.
Are you ready to get started?
Let's Go!
Delicious Beer Brined Smoked Barbecue Chicken
Prep Time: 20 minutes
Cook Time: 1 hour
Smoker Temp: 275°F
Meat Finish Temp: 165°F
Recommended Wood: Pecan
1-2 Chickens (cut into pieces)
Beer brine (recipe below)
Jeff's original rub recipe (purchase recipes here)
Beer barbecue sauce/glaze (recipe below)
Add 1 cup of coarse kosher salt to 1/2 gallon of cold water..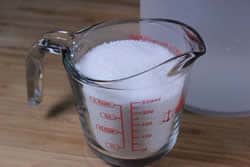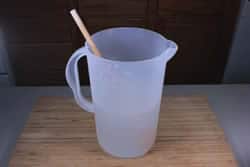 Stir in the salt until it dissolves and the water becomes clear.
Add ¼ cup of Jeff's rub and 4 bottles of beer (12 oz)
Stir to combine. It may get a little foamy..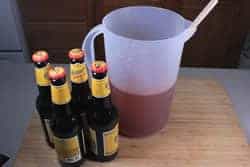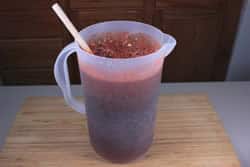 The brine is ready to use
Rinse chicken pieces under cold water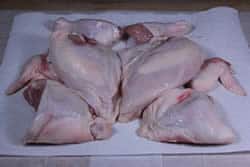 Place chicken into a plastic or glass container
Pour the brine over the chicken to cover.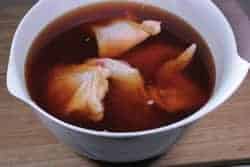 Add some ice on top to make sure it is nice and cold and place the bowl in the fridge for about 4 hours.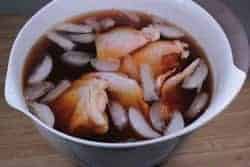 When the brining is finished, rinse the chicken really good to remove any extra salt residue from the surface.
Place the chicken pieces into a large ziptop bag and pour ¼ cup of Jeff's rub into the bag.
Zip the bag closed and roll or massage the bag to coat all of the chicken with the rub.
Once the chicken is well coated, place the chicken pieces onto a Bradley rack or pan. It is now ready to cook in the smoker.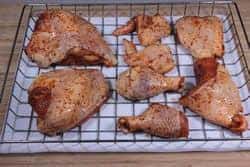 Ready to Start Smoking?  Click the "Next" Button Below and See How to Finish this Up Perfectly!