1
Just the Right Amount of Heat!
This combination of chicken, jalapeños, and cream cheese will have you fighting to keep everyone away from the grill.  This is the perfect dish for your weekend backyard barbecue and this recipe will have your friends dripping with envy over this one of a kind creation.  Making this on the smoker is the only way to go.
This is so easy to whip up.  Are you ready?
Let's get started now!
Helpful Information:
Preparation time: 25 minutes
Brine time: 2 hours
Cook time: 1.5 hours
Smoker temperature: 240°F
Meat Finish temperature: 165°F
Recommended wood: Pecan
What You'll Need:
4-6 chicken breasts
8 oz cream cheese
3 jalapeños
Jeff's original rub recipe (purchase recipes here)
Thin sliced bacon
Step 1: Brine (optional)
I always recommend brining chicken and, all poultry as far as that goes, but just know that if you are short on time or decide to make this recipe at the spur of the moment, it will not ruin the recipe if you skip brining it.
Brining adds moisture and flavor to the inside of the meat to help ensure that it ends up as juicy, tender and flavorful as it can be.
To brine the chicken breasts make a solution of:
1 quart of cold water
¼ cup of coarse kosher salt
¼ cup of brown sugar
Stir well until everything is dissolved.
Place the chicken breasts into a zip top bag or other plastic or glass container and pour the brine over the chicken to cover. Place in the fridge for about 2 hours to brine.
Once the brining is complete, remove the chicken from the brine and rinse well under cold water. Pat dry and set aside.
Step 2: Make the Cream Cheese/Jalapeño Mixture
This step can be completed while the chicken is brining (if you opt to brine).
Leave the cream cheese out on the table for about an hour to soften.
Place a block of cream cheese or about 8 oz into a small to medium sized mixing bowl.
Deseed, clean and dice 2-3 jalapeño peppers, depending on how well you like jalapeño and how spicy the jalapeños are.
I usually taste of a little piece to get a feel for the heat level of the peppers (they tend to vary greatly).
Tip: soak the cleaned, deseeded peppers in a bowl of sprite to remove some of the heat. The longer you soak them, the more mild they will become.
Put the diced peppers into the bowl with the cream cheese and stir to combine.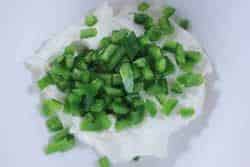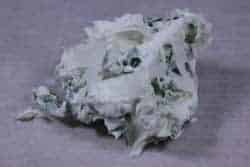 Step 3: Season and Stuff the Chicken Breasts
Click the "Next" Button Below to Continue…